Don't have time to make it to the beach? From accessories to colour palettes, below are some coastal twists you might want to consider for your home to help give it that coastal style.
Incorporate Architectural Details
Put on the character of the shore to your home's exterior with shore house-style architecture and accents of vibrant colour. A bright blue door adds flair and welcomes guests into the home.
Keep It Light and Bright
An emphasis on light and colour enhances the coastal feel. Do not be afraid to use strong colour in large, unexpected ways like on your own kitchen island. To avoid the island looking out of place, use a bit of that same colour on some of the cabinetry and if you have wooden floors allow them to balance the bright colours.
Be Bold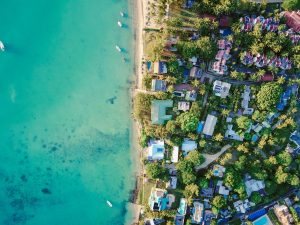 Beach dwellers are not fearful of a little colour, so don't be afraid to try more vibrant colours to be able to accomplish a coastal feel into your home. A porch is the ideal place to try out some colours you normally would never think about. If painting your woodwork seems excessive, then use furniture to incorporate colour instead. Adirondack chairs are available in a range of different colours and shades.
Pick White
If colour is not your thing, choose your palette to the other extreme by maintaining all of your surfaces, from ceiling to floor, a refreshing white. Details like painted wood floors and beaded-board cupboard fronts create casual beach house styling.
Try Louvered Doors
They offer the nostalgic look of old beach cottages and may be opened wide to invite the outside in or closed when necessary for protection against the elements. Canvas drapes are a great addition also to add softness and extra protection.
Bring the Outdoors In
Wicker lounge chairs surrounded by lush plants and coastal shrubbery transfer you to the shore without you ever having to set foot outside your home.
Adopt the Lifestyle
An extra-deep porch swing makes lazy Sunday afternoons a must. Curl up with a book from the heap of cushions, enjoy the view, or stretch out for a quick nap.
Pick Coastal Motifs
Adding only one seaside reference, like a palm-patterned rug, is all you want to provide a subtle nod toward the area.
Use Shells as Accents
A gorgeous variety of sand dollars, seashells, and starfish immediately and inexpensively adds a natural accent to any room. Ocean treasures can also be styled in oversize glass vases and put upon a mantel for a coastal focus in a lounge room.
Change a Mirror
Introduce beach decor in your decorating in small and subtle doses. Take one of your current mirrors to another level by adorning it with a set of stunning oyster shells. All you'll need is a glue gun, a glass of wine, and some patience.
Produce a Pretty Garland
Using twine, create a garland of seashells, starfish, and some of your other coastal treasures. Attach shells to the twine using additional pieces of thinner twine. If necessary, use a small drill to make the holes in the shells. Hang your homemade garland to decorate a window.