Making plans for a perfect baby shower is difficult because child expectancy can't be emphasized enough, one of them is to think about everything your child needs. You may be wondering what you need and what you need to register.
If you have not experienced the birth of a child before, you may not know where to start with all these gifts for the shower.
It's funny that products or goods some parents never knew existed has suddenly become the top in their most-wanted list while expecting a child and might take some time when browsing for a suitable baby clothing option online.
Either you are a pregnant mother or her best friend, it seems everything has been done before and suddenly you are lost. But do not worry, you will become a pro at it and you will be able to inspire your friend beyond what they can find on the Internet because you would have a side story to tell from your experience.
Choosing the perfect gift for a baby shower doesn't come easily. Of course, it's good to give a pregnant woman what she has listed or what she needs but you also think of something else to bring, something unique and great!
If you are looking for what to get for the new parents or you are expecting a child and you need ideas for your child, use or shop for one of these baby gifts.
Soothing sound
Future parents do not think too much about how their baby will sleep or how it will affect them if the baby can't sleep for crying all day instead.
A soothing sound is a remarkable tool that makes babies sleep quickly and better at night.
This is a great gift to a would-be mother because you have just relieved her of the stress of her trying to lull the baby to sleep.
Noncontact thermometer
This is also a good gift and it should come with a good gesture.
We don't want the baby to have a high temperature but a thermometer is a tool that will keep the child on the check even while asleep.
It has a dual-mode that can measure temperature through the forehead  (for all kids) or the ear  (for children over 1-year-old). If you have a sleeping baby who has a fever, the last thing you want to do is to wake the baby and measure the temperature but you can measure the child's temperature with the thermometer while the child is asleep.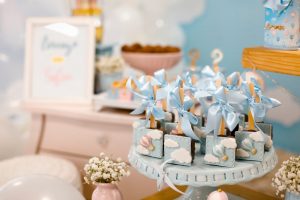 The crib starter park.
The crib starter package makes it easy to replace the crib! In both parts, place the main part of the sheet at the bottom of the mattress, then attach it to the top sheet with a zipper. If your child has an accident or is sick, you can remove it for a few seconds by pulling the edge without holding the mattress and remaking the entire crib.
Portable Diaper changing station
This diaper changing station serves as a very convenient and portable replacement station Thanks to the comfortable rubber feet and a handle for easy carrying, parents can move it from room to room. This is very practical, and it is always good that parents have everything they need to replace their baby's diapers all in one place. The diaper changing station has a place to store diapers, lotions, towels, and pads.
Recovery essentials.
Who says you can't think of something to get for the mother?
Most people buy a gift(s) only for the child in baby showers without considering the mother who will give birth to the child.
Getting this Earth Mama recovery kit is a great gift for baby showers because most young mothers have little thought about recovering from their baby. This is not the sweetest gift, but the mother will appreciate it after the birth of a child. This product will be very useful.